Ghost World
This is a 3D action game where you have to retrieve a king treasure. The player have to collect all gold coins of a level with taking care not to be catched by ghosts. The player have 2 base weapons, and can use items found on each map to progress through levels.
The game is composed of ten levels, plus the final boss level.
Use Acid balls to affraid ghosts
Take care to traps.
Tornado is very usefull to catch ghosts, and give lot of score bonus.
It may be a good idea to find another path !!!
Use plasma ring if you can't escape.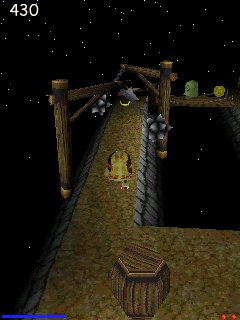 You will find interresting items on this path, but it's risky..
You should use teleport to escape..
This game is available for iPAQ and Casio Cassiopeia on www.pocketgear.com or www.handango.com